I have been MIA but I'm glad to be back with Ashley

and

Neely

.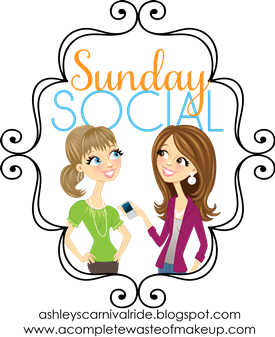 Let me just say, for the record, it is 55 degrees and gorgeous in Clarksville, TN. I am sitting outside on the porch with the pups and music blaring!! I LOVE SUNDAYS LIKE THIS! I'm just waiting for Mrs. D to walk in so we can possibly sip on some wine today and catch up.... why not?? :)
This week's questions:
1. What is one movie you are terrified to watch? I don't really do scary movies. The one that comes to mind though is The Exorcist. If I'm by myself, no way! If I'm with The Boy, I'll try to watch one.
2. What is one TV show you have always wanted to get into but haven't yet? I would say Grey's
Anatomy. I even bought the first season, but I just feel like I'm so far behind now, it's too late.
3. What is one daring activity on your bucket list? I would say cliff jump into an ocean.
4. Would you ever travel alone? Sure. I guess it'd depend where I'm going. However, I didn't like living alone (although I survived) for 6 months, I'd much rather be around people. So, I'll travel by myself as long as I'm meeting up with a group...I'll put it that way! :)
5. What activities do you like to do alone? hmmm.... good question. I prefer to go shopping alone. SHOCKING FACT: I DO NOT LIKE TO GO SHOPPING WITH MY GIRLFRIENDS!! (Only because one of my friends will literally take an hour to try on 3 things and I'm over here already in the check out line with my items that I got on clearance!)
1. Favorite thing to do on a rainy day?
2. Favorite thing to do on a Summer weekend?
3. Favorite Spring accessory?
4. Favorite way to spend a Winter day?
5. What is your favorite season and why?
6. Best birthday you ever had?
I'm taking on Neely's challenge she posted on twitter a few hours ago and I'm going to comment on 5 NEw blogs today!
I hope everyone enjoys this gorgeous Sunday as much as I am. However, don't ask me if I'm ready for school this week because the answer is NO! "Ain't nobody got time for that... when it's gorgeous out"
HELP:
How do I respond to someone's comment on my blog? I can't find the e-mail option or respond to comment thingy? Any ideas?? Is it a preference thing??