I ran across this lovely post from
Emily
today as I was sorting my blogs on BlogLovin' and I got super excited!!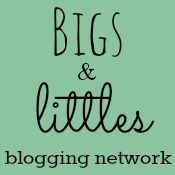 This is what I've been looking for people! Someone who is willing to help me, give me advice and just discuss all things blogs! I signed up and can't wait to see who my 'big' is. I promised myself I would never be mad or upset about the number of followers I have. Since I started this lil' blog of mine about 2 years ago, I always told myself it was just going to MY place to write...not about followers. Now that I have more than I ever thought, it's nice to get comments or feedback to my questions :)
However, I have to admit that when I saw I lost one follower...it stung. But oh well, I'll blog again anyways.
I also ran across
Savannah's blog post
about "Why she blogs" and I wish I could copy and paste it, because seriously, she couldn't have written it any better. I feel the same exact way, so just go read it yourself!
(SHE IS AN AWESOME WRITER!)
I love blogging and I love making connections with other people, but it's so hard not to look at your numbers/stats or start doing things that are "in". I'm hoping I can gain something (ANYthing) from this Big & Little thing. I like link-ups anyways, so it couldn't hurt. Go ahead and join in the fun!!
My baby boy looking so cute in his KU scarf!